I rarely have the energy or time to make eggs and toast and sausage soy sausage for me in the morning, so it's a nice treat to have it for dinner. Add baked beans and fried mushrooms and tomatoes for something resembling a "Full English. Every "easy weeknight recipe" I find assumes I'm fine with food prep steps beyond "opening a container" and "starting to eat. I am not fine with that. They sell family-sized bags, and sometimes I'll buy an additional bag of matching frozen veggies to throw in to pad it out some more.
It does not affect the sauce-to-food ratio much. The Alfredo or Ranch are my favorites. I do not enjoy cooking. Easy meals that work in our rotation: - nachos. Open can of refried beans. Put in container. Top with salsa and cheese. Microwave until cheese melts. Serve with tortillas or tortilla chips.
Open can of beans, drain, rinse. Microwave whatever frozen veggies you like. Cook rice instant microwave rice works fine. Put those things in a bowl with salad greens. Top with salsa, salad dressing, sriracha, whatever. I like fried eggs on tortillas. You need meals that you can assemble rather than "cook. I do this for my lunches. Toss with oil and vinegar or a simple vinaigrette you buy at the store. Top with tuna salad or egg salad. Mix tuna and mayo. For variety, add some salsa or tabasco. Slice up some apples or whatever fruit is in season. Add some cheese slices, pickles and olives.
Maybe some salami. Yeah, this one is weird but a go-to in my house when we're tired. Assemble tortilla chips, refried or rinsed beans from a can, grated cheese, maybe some sweet onion slices or chile from a can if you're feeling fancy. Put it in the oven or the microwave until stuff is melty. Break up a head of broccoli or buy some frozen stuff--nuke it, steam it.
Eat it with the nachos with lots of salsa and sour cream. They go well together, trust me.
5 Easy Make-Ahead Meals for Moms Who Hate Cooking
Sandwiches are delicious. My favorite for dinner: bread, turkey slices, cheese, mayo, dijon, red onion slices and lettuce or greens. Buy the pre-washed and prepped lettuce or greens. Heck, buy the pre-sliced cheese too. Greens, add some red or green onion for flavor. Some carrots if you're feeling ambitious.
Where is God when life feels hopeless?
Drizzle with vinaigrette. Maybe sprinkle on some walnuts or pepitas. Fry an egg or two and put it on top. That's it. Smear refried beans on corn tortillas with a butter knife. Top with cheese. Add salsa and any of the following from a bag: cabbage, mixed greens, lettuce. Add your delicious fat of choice: avocado, sour cream, mayo, salad dressing. My husband has executive function challenges in this arena, so I am coming to you from the perspective of someone for whom this is easy who has tried to facilitate someone for whom this is hard I just can't do it all myself. One of those is actually kinda fancy from when we tried Blue Apron, our favorite meal but he's made it so many times it's his thing now.
One option is Big Salad, assembled from purchased vegetable components and home-browned ground beef or bulk-cooked chicken thighs chopped up. One is Breakfast for Dinner. One is stovetop poached chicken or pre-prepped meat with roasted broccoli or a steamer bag of frozen veg we keep of those in the freezer at all times.
We also keep in stock in the freezer one frozen pizza and one of those frozen pasta skillet dinners, which either of us can throw on rather than ordering delivery. There's also always sandwich makings and canned soup in the house. Sometimes that's dinner, and that's fine. We do have an Instant Pot. I could provide him with basic recipes and he could make them. I would certainly recommend it over a slow cooker - it does have a slow cooker mode, but the upside of the IP is that you can start thinking about dinner minutes before mealtime rather than hours, so long as you have some basics on hand.
If you want to know my basics, let me know and I will tell you. In our case, I am so much more agile in the kitchen that it is almost completely mindless work for me to do these Instant Pot meals myself in a quick break from work I work from home. I think there's a lot of propaganda out there that frozen or canned vegetables are "processed food" all food is processed, by that metric, unless you pick it out of the ground and transport it yourself; even home canning is processing and that spells BAD. That's bullshit. Recycle whatever you can of the packaging, but eat frozen vegetables and use the microwave and buy ready-to-heat or ready-to-eat basic non-gloppy foods from your grocery store deli, if all you really have the time and patience for in your life is assembly.
Just that is still, if you make judicious choices, miles ahead of takeout food in almost every case in terms of nutrition, portion, and economy. And if I was equipping a kitchen for my husband to use on his own, I'd probably skip the instant pot and get him a cheap fancy rice cooker instead. You can steam meat and seafood over your rice while it cooks. You can use it for rice, quinoa, oatmeal, you can make chili in it, and these more-American model closed rice cookers are also slow cookers if you get into that.
You can go even cheaper but I think the closed cookers are slightly more versatile. We do our family meal at breakfast and that makes life easier. For dinner, one of our favorite is shrimp tacos. You get frozen shrimp poppers, throw them in the oven. Put them on flour tortillas with your favorite toppings. Ours are cabbage sometimes with slaw dressing - mayo, lime juice, sugar; sometimes plain ; radish; mayo mixed with some cumin; sometimes a mango or pineapple salsa fruit, red pepper, red onion, lime juice.
The kids eat them disassembled. Even the four year old likes the shrimp. Also something that helped was defining the days. Our house was: Monday - breakfast for dinner Tuesday - tacos Wednesday - pizza Thursday we eat at grandmas Friday - carry out, eat out, popcorn for dinner, who knows Saturday - I cook for realz, yo! Sunday - clean out the fridge day posted by dpx. I had a question a couple of weeks ago about how to reduce time and effort while camping. A lot of the answers are working their way into our home kitchen as well for the same reasons that you state: cooking all the time sucks.
Similar stuff possibly identical white-label is at Trader Joe's. Pre-washed lettuce is good in theory but I've found the mean time to black sludge varies greatly so I usually get romaine hearts, which I roughly chop and throw in the salad spinner before a meal. I hate doing this but sometimes you just need something green. And somehow a rotisserie chicken from the grocery store ends up on our table at least once a month, though we never plan for it.
They're just so tasty and often the price isn't that much more than buying a raw chicken ourselves. Kale and eggs: steam the kale in a bit of water and add salt and pepper. Cook the eggs however you want. These take some prep, but you can make a lot and eat them for days: Bean and quinoa salad: make quinoa on the stove. Roast some sweet potatoes in the oven. Rinse a can of black beans. Open a bag of spinach. Equally good hot and cold. Bean chili: chop an onion, 2 carrots, and maybe some celery. Sautee on the stove. Rinse cans of black beans and cans of kidney beans.
Add to your sauteed veggies. Season with garlic, chili powder, cumin, cinnamon to taste. You can either serve this as soon as it reaches a simmer, or wait a little longer until it cooks down to a consistency you like. Spinach curry: Make some rice. Thaw 2 packs of frozen spinach. Sautee a large onion and lots of garlic on stove. Add spinach, a can of rinsed chickpeas, and a can of coconut milk.
Season with salt, curry powder, cumin, cayenne. I'm realizing that the above recipes are all vegan-ish, but you could certainly add some meat to them if you wanted. Here's my "don't wanna cook, but won't serve cereal" recipies. Pasta, veg and meatballs. Boil water and throw in pasta. While that's underway, microwave pre-cooked frozen meatballs to a good eating temperature.
Just before the pasta is ready, throw in about 2 cups of frozen vegetables you'll need to likely re-turn up the heat. When the veg are a good temp, remove from heat and drain. Return to the pot or large serving bowl if you like extra dishes and add a jar of sauce and meatballs.
Corned beef or use ham to make it a Rachel , sour kruat and thousaand island dressing on rye bread. Grill it and you're done. Griddles require flipping. Also, panini presses can be setup outside for those hot summer nights where you don't want to make the kitchen warm and run up the AC but still have some warm food. Tuna sammies! Drain cans of tuna fish; 1 can makes two sandwiches. Add tuna fish and mix in mayo and sriracha sauce to taste. Spread on bread and top with more bread. If you wanna be really fancy, grill the sandwiches see previous tip re: panini press. Serve with raw veggies.
Include dip if desired. Scramble a tonne of eggs with garlic powder and pepper if your kids eat that. Serve with toast. Possibly add frozen ommelette mix frozen chopped onions, peppers and mushrooms if you can find it.
Sorry, this last recipie is pretty complex for this list, but it's my favourite. Sometimes it's on the menu 2x a week despite it taking the longest. Depends upon thawed frozen meat - either move it from the freezer to the fridge the night before, or thaw in the microwave takes about 10 minutes. I have two variations - the simple one uses a can of refried beans as binder. The more complex one relies upon sweet potato as binder.
If you're doing the simple option, you open a can and drain off some of the excess oil. For the complex option, microwave 2 mid-size sweet potatos for 8 minutes. Wait 10 more minutes, and the skins should slough off of the sweet potato easily - save those skins for snacking if you're weird like me. Otherwise if you have dogs they'll happily gobble them up. Once you've chosen the binder, brown 1 lb of ground meat and then add taco seasoning. Drain 1 can of black beans and 1 cup of salsa to the meat and continue cooking.
After minutes of cooking, lightly mash some of the black beans with a wooden spoon for more flavor, or leave them alone. Add the binder and continue to heat. When the binder starts to bubble, add 1. When the corn is warm, remove from heat. Put the tortillas on plates and teach the kids to roll their own burritos. Seriously, rolling burritos sucks the enjoyment from this recipie - everyone rolls their own. The young kids seem to enjoy eating their falling apart burritos because they did it themselves just make sure to have forks and accept that they might need to wash their hands inbetween burritos.
After times they'll do it at least as well as you will when you're trying to roll 14 at once and stopped carring around number 5 if they fall apart or not. I have a good friend who doesn't cook, and I just set him up with freshly. Unlike almost all of the other meal delivery services, the food is already prepared and all you have to do is heat it up. It's not frozen, but you can freeze it if for some reason you're not able to eat it before it goes bad.
My friend's first delivery comes in two days, so I can't tell you how good the food is, but it's got good reviews. Every once in a while you get a bag that must've sat at the store too long, but for the most part this tougher stuff will last a week, unopened, in the crisper drawer. This can help with making shopping and cooking efficient. It also means that everyone knows what's for dinner, anyone can preheat the oven or pull out the necessary ingredients.
I tend to do this on my Friday afternoon lunch breaks so I can make sure I have enough planned meals for the week. This will keep you from decision-making when everyone is tired and headed toward the 7pm bedtime goal the WORST. Can one of you take time to prep things for the week?
Preferably this would happen when they are not also on kid-duty. That can mean listening to music, a podcast or an audiobook. That can also mean leaning on pre-prepped ingredients a little extra money to save on food waste and frustration is so worth it. You can make full reheatable meals stews, casseroles, etc or prep the veggies, sauces, precooked meats or whatever to throw together later. That's pretty intuitive for casseroles, but do it for soups or stews too! That means you only have to pull out the saucepan and place it directly on the stove.
It's worth picking up a few extra quart lidded saucepans to allow you to do this. Then there's only the pot to wash afterward. Scrambled eggs with frozen veggies onions, peppers, spinach, pre-cooked potatoes, rice or pasta, pre-cooked meat or sausages, etc aren't just for breakfast. You can add rice or other grains or just serve toast alongside. Pancakes or toaster waffles with fruit and yogurt don't take long and little people often see this as a major treat.
Picnic dinner with cheese, meats, veggie and bean salads make ahead for the week! Frozen toaster waffles, and lunch meat ham - take X slices depending upon thickness - aim for Plus, ms. Create economies of scale where you can. Particularly, chopping a bunch of onions, peppers and other vegetables in a huge batch on the weekend, then freezing them in ziploc bags in portions ready for a single meal is a huge time-saver both absolutely and in terms of how much time a given meal takes to prep. It also can help alleviate decision fatigue. I've read you can freeze cooked rice with good results.
I've never tried it, but in your bulk prep you could cook a big pot of rice while you're chopping veggies and stuff, and then freeze it in meal-sized containers. We make a lot of things that are essentially very similar ingredients but with different spices and condiments.
For example, burrito bowls are sauteed onions and peppers with some kind of meat or meat-substitute we use vegetarian chipotle sausages. Store-bought guac, sour cream, pico de gallo and shredded cheese on top. One pan. If you like rice, that's a second pan. Start with the same base and toss in some chopped celery, carrots and broccoli, add some tamari, soy sauce or teriyaki sauce and you have a nice Asianesque stir-fry again, add meat as you prefer. You said no slow cookers, but may I recommend a rice cooker?
It has set-it-and-forget-it convenience if you get one with a timer. And you can cook a whole meal in it I've never cooked meat in one, so you're on your own there. Put in the requisite amount of rice and water or broth, toss in a ziploc's worth of frozen onions, carrots and broccoli and it will be all nice and delicious when it's done. And rice cooker pots these days are usually non-stick, so clean-up is kind of a breeze.
You can use whatever seasonings you like to make it more interesting. Also, bagged salad mix is a real time-saver. But yeah, my number one suggestion is to do as much bulk prep for the week as you can in one or two sessions. Having pre-measured, already-chopped veggies etc. Stir fry is one of my go-to easy meals. If you want a bit more control over what you get, it's almost as easy to buy a bag of frozen stir-fry veggies Costco sells a good one, if that's an option , add the protein and sauce of your choice.
Serve over rice. I like chicken tenders or whatever they're selling as beef for stir fry. These both cook quickly and don't require prep beyond tossing the meat in the pan. It feels a bit healthier doing it this way, but requires you to have more stuff on hand.
I don't know how kid friendly this meal is, so ymmv. Trader Joe's was made for you and me. When my kids were little and I had a side business hosting exchange students, I got in the habit of doing a every two week trip to Trader Joe's and I loaded up on the food in their freezer section. I invested in a chest freezer. I would also buy extras of bread and milk and freeze those. You have a variety of options in terms of prepared items that you can mix and match or items that need sauces or garnishes. They have a couple of different kinds of chinese style chicken, frozen plain rice, frozen fried rice.
I would make those and add frozen peas, and their goza. They have frozen plain boneless chicken breasts that you could cook and add to pasta and use pesto. Fresh cut tomatos for the veg in that dish always tastes good. There are meatballs that you cook in the tomato sauce, get pasta and some frozen broccoli. There is seriously no end to the quick and easy meals you can make from Trader Joe's. And my fall back is always breakfast for dinner. Eggs and toast, pancakes with some of their frozen fruit defrosted.
Okay, I just wanna say that I kind of hate cooking well, it's more like I have complicated issues lingering from child abuse that affect my ability to function well in the kitchen and I love Blue Apron. I also really like Purple Carrot. We use both of these plans and it has been such a transformation.
What to Do If You're a Stay-at-Home Mom Who Doesn't Cook | POPSUGAR Family;
What to Do If You're a Stay-at-Home Mom Who Doesn't Cook.
(And they work just fine for those who like to cook, too.);
Britain in the Middle Ages: An Archaeological History (Text only);
14 Must-Haves For Moms Who Hate To Cook!
Chiripas de la historia (Spanish Edition).
I actually cook consistently now, which is a huge relief for my husband who otherwise does a disproportionate amount of the cooking. Nothing else I have ever done has worked this well. So, you might wanna at least give it a trial run. I have a week's worth of free meals from Blue Apron to give away if you want 'em.
Just send me a private message. My mom doesn't like cooking, and I don't like cooking either. My dad didn't really cook. Growing up our dinners could be: -a bowl of soup sometimes canned and sometimes reheated from a pot made on the weekend and a half a sandwich or a grilled-cheese sandwich or cheese and crackers, maybe with a handful of baby carrots on the side -breakfast for dinner strictly scrambled eggs, toast, maayybe microwaved bacon -spaghetti with meatballs made ahead and cooked from frozen with jarred sauce, side salad with dressing -roasted chicken or a store-bought rotisserie chicken pretty much the only thing my mom likes to cook is roast chicken plus two vegetables usually frozen spinach heated in a skillet with butter and salt and green beans -giant salad nicoise bagged lettuce, green beans, hard boiled eggs, capers, new potatoes, vinaigrette, tuna -chili beans, ground beef, seasoning packet with corn muffins Jiffy Mix My mom didn't use a slow cooker, so I do some of the above and add: -reheated leftovers from the fridge or freezer this is critical- I can't bring myself to cook on weekdays.
I like things I can make in a slow cooker and this is my favorite soup and my favorite meat thing. They make large portions so I can freeze some. I personally hate chopping a ton of vegetables, so this heavily influences my cooking decisions. I'm not even willing to prep vegetables for cooking ahead to be honest.
7 recipes for people who hate to cook
Also, is any of this food fancy or very interesting? No, not particularly. But we ate interesting food when we went out- Thai, Mexican, Indian, etc. Dirt simple Hoppin' John: blackeyed peas, collard greens or kale or mustard , onion, rice, vegetable oil, bullion cube. Throw all in a pot, boil, season with salt, pepper, hot sauce, eat. Endless variations, stupid easy, stupid cheap, fairly complete nutrition, rather healthy. Also I like cooking now, but I used to hate it, and "one pot" recipes are still what I live on.
Just search for more one pot or one pan recipes for lots of related easiness. I don't dislike cooking but a lot of times resent the time it takes.
A few recipes I like a lot, for few ingredients, simple prep, no onion cutting, and only one pot to clean are: Chicken with Feta, Basil, Chickpeas Lemon Pepper Chicken Both of those are slow cooker recipes, probably could be made in an instant pot faster, or make one evening and eat the next 2 days. With rice, they both make enough for 4 meals, and are just as good the second day.
Two others that are easy, filling, and one-pot: Latin Chicken with Rice , I don't bother with the salsa or sour cream. In addition to the aforementioned Costco things full disclosure, I do love to cook, but as a full time employee and phd student and with a wife who has a full time job and chronic health issues They have pre-marinated wings, you just have to shove them in the oven.
They have pre-buttered and spiced salmon, again, just shove it in the oven and eat. Lots of cold salad type things no one ever died from eating chicken salad from a pail and applesauce. It's not the cheapest option, but it's cheaper than takeout and with massive portions, you're getting more than one meal from the same shove-in-the-oven-and-wait dish. We cook once or twice a week. Scrambled eggs - yes. You can prep a bowl's worth in advance; we usually cook a dozen on Sunday mornings and then use them throughout the week.
Frozen waffles - yes. Or just toast - yes. Pot of oatmeal, to which we add a bit of granola, and a few raisins. Fruit as snacks - fresh apples or bananas. Frozen blueberries. Dried cranberries. Add cashews or almonds for a bit of protein and staying power. Or apple wedges with some sunflower butter or peanut butter to dip them in. Or on sandwiches, or added to salad.
Get a rice cooker for easy rice prep; we keep a pot in our fridge at all times. I do a big pot of soup once a week sausage and kale - brown the sausage, add 2c chicken broth and 2c water, add chopped kale, simmer 5mins. I do a roast once a week throw it in the oven and it's done when the timer goes off. Sometimes I use a crockpot; I don't like to leave it on when we're gone.
Rather, I put it on at night and the food is cooked when we wake up in the morning. Essentially our meals are somewhat of a buffet; there are always 2 or 3 choices of already cooked protein, veg, and carb waiting in the fridge. Couscous is the easiest starch. Easier than rice, large cut pasta, even buying bread because it doesn't go stale or mold. Avoid the large pearl couscous sometimes called isreali couscous and go for the smaller moroccan variety.
All you do is put your couscous in a container that holds heat well. This can be a pot but it can also be a bowl or whatever because you don't actually need to put it on the stove. Then get some water boiling, if you have an electric kettle that work or you can zap it.
Pour enough boiling water over your couscous to cover it plus maybe half an inch of additional liquid above it, and then cover. Let it sit for about fifteen to twenty minutes prep the rest of your food in that time, or whatever else you need to do and then check to see that the liquid has been absorbed, and fluff it with a fork. Sprinkle a little salt on there as you fluff it.
Boom, simple couscous. To get way more delicious but not much more difficult, place pot on stove, set at medium heat. Melt some butter or oil in pot, add couscous. To make this into a complete one pot meal, melt some butter in the pot. Sprinkle some dried herbs thyme is good dried and is fairly forgiving and spices try paprika in the butter, or any spice mixture you like, plus salt and pepper.
Saute some chopped garlic and onion until translucent buy the jars of minced garlic and you can often find pre sliced onions, but also you can chop onions on a weekend and they are good in the fridge for a week and longer in the freezer , just until they aren't raw anymore. Mix in chunks of dried apricots great to have on hand for snacks anyway and smashed almonds also good snack, put some almonds in a ziploc bag and smash with a heavy pot or rolling pin or pepper grinder or whatever , add cubed raw chicken and saute until the chicken turns white but isn't fully cooked through, a couple minutes, more if it starts out frozen.
Add couscous, mix with everything, add chicken broth to cover ingredients, and bring to a boil. Put on lid and turn off heat, let it sit for twenty minutes. You will note that all the yummy bits have risen to the top. Check to make sure your chicken is cooked through. Optionally, squeeze some lemon on top and sprinkle some fresh parsley - it makes a big difference IMO but might not be worth the hassle to keep these fresh ingredients on hand for you.
Super fancy seeming Moroccan inspired apricot chicken couscous, makes excellent leftovers, is good at room temperature, top a pile of lettuce greens for a nice lunch, great with slices of good summer tomato and cucumber, able to make year round with ingredients that you keep in your pantry that do at least double duty. Swap chicken for shrimp or garbanzo beans for variety.
Red rice is really nice and ridiculously easy - oil in pot, saute an onion, chuck in a cup of uncooked rice and stir for a minute or two, chop up tomatoes and chuck them in dittto, now pour in a couple of cups of stock, bring to the boil and simmer until the liquid has gone. Add some herbs and salt and pepper and cheese and eat. My go-to Can't Even meal, besides rice and beans, is pasta with kale.
Put on a big pot of water. When it boils, add pasta for however many you're serving and the contents of a bag of frozen kale don't need to thaw. When the pasta is done, drain, toss with butter or good olive oil and some Parmesan. I have had great mileage dumping frozen spinach, frozen chicken, and a few spoonfuls of spicy salty sauce into my insta pot and setting it for 15 minutes. You could probably add some potatoes for a starch. I like to cook but we're busy and I have to feed a bunch of people. I make lots of soups. Base: carrots-onions-celery you can buy these pre-chopped at the store.
I know Wegmans has a specific soup veggie mix in the produce section, and I always have frozen, chopped onions in the freezer. Brown those in some olive oil. Add some minced garlic I buy a huge jar of pre-minced garlic. You can brown some Italian sausage or ground meat with this if you want or I shred up a grocery store rotisserie chicken. Add some stock or broth and some water. I never measure, it always comes out fine.
At least one box of stock and one can of broth, more if you're going for a really huge pot of soup. A couple of broth cans of water. Salt, pepper, bay leaf, poultry seasoning if it's chicken soup, Italian seasoning, whatever. Cans of diced tomatoes, white beans, frozen peas or corn. Rice or pasta. A bag of frozen kale or a bag of baby spinach at the end. A squeeze of lemon juice from one of those little bottles that shaped like a lemon freshens up the taste!
I've literally never had a soup come out badly when I did some version of the above. Serve it with parmesan or mozzarella cheese and a loaf of formerly frozen but now toasted in the toaster oven garlic bread. Or just throw everything into a pot and boil it. As long as you add some kind of seasoning, it will be fine. I always make a positively enormous pot of soup and freeze half of it. This is my go-to at Trader Joe's and probably most places, but TJ's is my go-to cheap and cheerful option : Shopping list: buy garlic even pre-skinned, in the refrigerated veggies part of the store , some green vegetable that has already been rinsed and chopped and bagged, canned beans chickpeas are good here , pasta, olive oil if you don't have any, and sausages real meat or otherwise.
Bonus: pre-grated parmesan. Cooking directions: Rinse 1 can of beans. Chop 2 sausages, then fry them in oil with the garlic and whatever dried herbs you have lying around. After they're cooked enough and a little browned, add the beans, then add 1 bag vegetables. Serve with pasta, or make penne and then stir it in after you drain it. Salt to taste. Apply pre-grated parmesan. The recipes are all one-liners, which I find nice for my Since eating out with kids costs a small fortune, they've had to adapt to my culinary handicap. Trying to explain all of this to my friends who love to cook is like telling them you don't like the way their nose goes with the rest of their face.
They take it so personally and can't imagine that anyone doesn't love spending the afternoon whipping up a creative masterpiece out of chicken thighs. It's fun! Over the years I've tried several times to force it — convince myself it WAS fun. This is evidenced by my sad little Pinterest recipe board and my husband coming home, opening the windows, and asking, "What's that smell? One of my bullet points was to do more things I like to do, and leave behind what I don't. Cooking fell on the latter list. It's just part of who I am. My aunt knows I'm bringing the pies to Thanksgiving. And before you worry about my kids growing up to continue my legacy of serving their families chicken nuggets and olives for dinner, don't.
Let's just say my mom finally got the eager proteges she's been praying for, times three. Our Family newsletter is a little parenting cheat sheet, delivered to your inbox daily. Around The Web. You May Also Like. Personal Essay. David Beckham. Now You Know. Latest Family. Customize Select the topics that interest you:. Parenting Humor. New Moms. Parenting News. We're Hiring! Terms Privacy Policy. Don't Miss Out!
I HATE COOKING - Recipes For Moms
I HATE COOKING - Recipes For Moms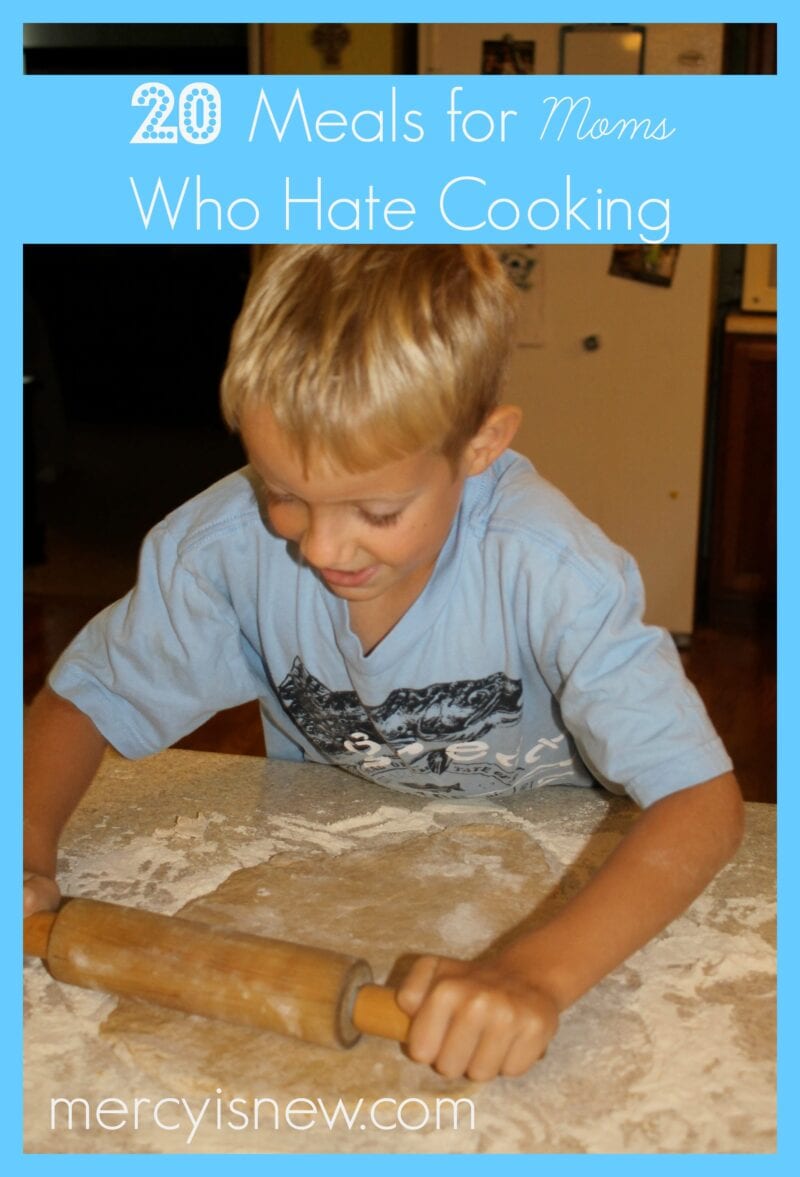 I HATE COOKING - Recipes For Moms
I HATE COOKING - Recipes For Moms
I HATE COOKING - Recipes For Moms
I HATE COOKING - Recipes For Moms
I HATE COOKING - Recipes For Moms
I HATE COOKING - Recipes For Moms
I HATE COOKING - Recipes For Moms
---
Copyright 2019 - All Right Reserved
---